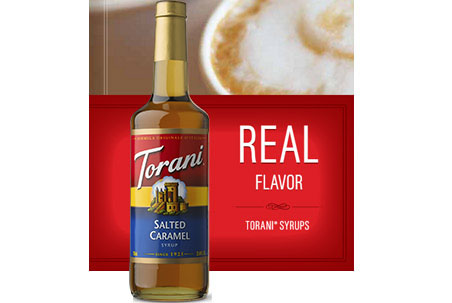 SALTED CARAMEL SYRUP
First comes the sweet and then comes the salty. This syrup keeps you on your toes. Rich buttery caramel kicks things off. And just when you thought that was it, a touch of saltiness appears – and the ride continues. Hop on and enjoy.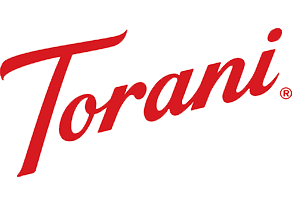 TORANI SYRUPS
Torani Syrups are made with pure cane sugar, natural flavors and cold-filtered water. Each flavor is carefully crafted until it achieves our gold standard.
WHY TORANI SYRUPS?
 • #1 consumer brand in the United States
• Made with simple, real ingredients like pure cane sugar and natural flavors
• Versatile - Ideal for hot or cold beverages, including lattes, iced coffees, lemonades, teas, Italian sodas and more
• Over 100 flavors to choose from
• Full line of sugar-free flavors

EXPERIENCE THE GOLD STANDARD IN FLAVOR.
At Torani, we believe the best flavor comes from using the highest-quality simple ingredients, which is why we craft our syrups with pure cane sugar, natural flavors, and cold-filtered water. For more than 85 years, we've focused on making flavors that blend perfectly in the cup to make the best beverage possible. Today, we continue the tradition with a wide variety of regular and sugar-free syrups that can bring your beverage menu true appeal.

FLAVORED BEVERAGES: CUSTOMERS CRAVE FLAVOR
• In every category of beverage, flavor is what attracts consumers and keeps them coming back. Torani Syrups offer flavor variety for all beverages, hot and cold.
• Seasonal drink offerings are on the rise. Torani has a flavor assortment for every season.
• Handcrafted beverages increased in menu incidence in 2012. With Torani's simple ingredients like pure cane sugar, cafés and restaurants can craft unique beverages to set their businesses apart.
Torani Coffee Syrup Collection

HOW TO MAKE A TORANI FLAVORED COFFEE?